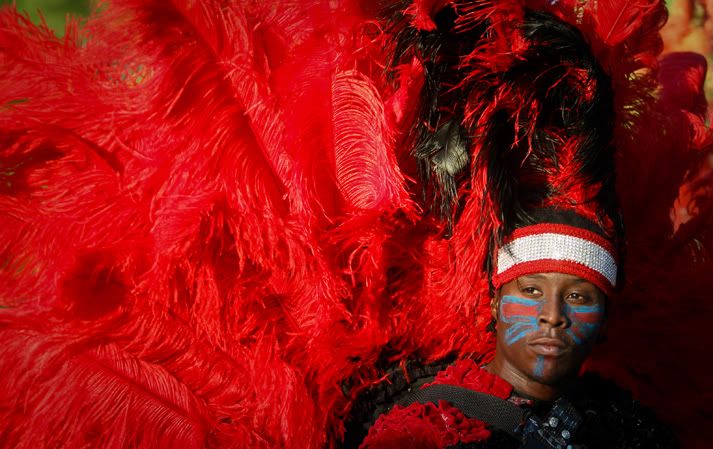 One of the main story lines in HBO's hit series Treme examines the subculture that are the New Orleans Mardi Gras Indians. Albert Lambreaux (played by Clarke Peters) is a "Big Chief" of an Indian tribe, the Guardians of the Flame.  "Masking Indian" is one of those things that is uniquely New Orleans. For many visitors to New Orleans, their best opportunity to see the Indians and their beautiful costumes is at the New Orleans Jazz and Heritage Festival.  In addition to their traditional masking days, several tribes come out to Jazz Fest to give folks a taste of this fascinating part of New Orleans culture.
There are a number of theories as to why African-Americans in New Orleans began to mask as Indians, but many people think it started as a way of honoring Native American traditions.
Indian tribes are neighborhood groups. Every year their costumes become more fanciful and elaborate, culminating in beautiful outfits worn over the last few decades. To paraphrase the song, every year, at Carnival time, the Indians make a new suit. It's considered bad form to wear last year's costume; in fact, previously many Indians would strip the feathers and beads from their suits, then burn the rest. In recent years, however, many Indians wear their older suits for corporate gatherings, conventions, and other tourism events in the city. This helps them offset the cost of the "new suit," which can set them back over $5,000 each!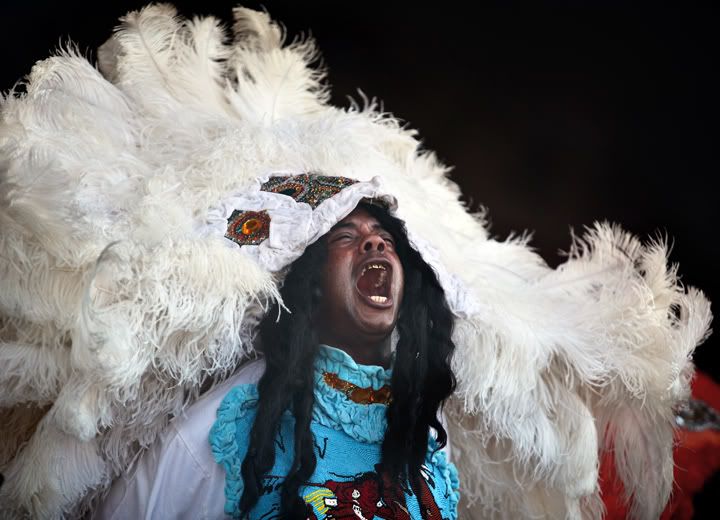 The tribes traditionally come out for Carnival Day, then re-appear for "Super Sunday," the Sunday closest to St. Joseph's Day (March 19th). On Mardi Gras, downtown and uptown tribes alike would make their way to the neighborhoods around the turning basin of the New Basin Canal, on the uptown side of Canal Street, where they would parade and dance.
The various tribes classically have three types of costumed Indians: Spy Boy, Flag Boy, and Big Chief.
When marching through the streets, the Spy Boy would run two-three blocks ahead of the main group, literally spying for other Indians. The Spy Boy stays in visual contact with the Flag Boy, who carries the tribe's banner. In an interview, the late Big Chief "Tootie" Montana explains that Spy Boys used to be lightly costumed so they could do their jobs in stealth. Nowadays, however, a tribe's Spy Boy will often be elaborately costumed and carry a stick. Only a Chief would be permitted to carry a stick in earlier times.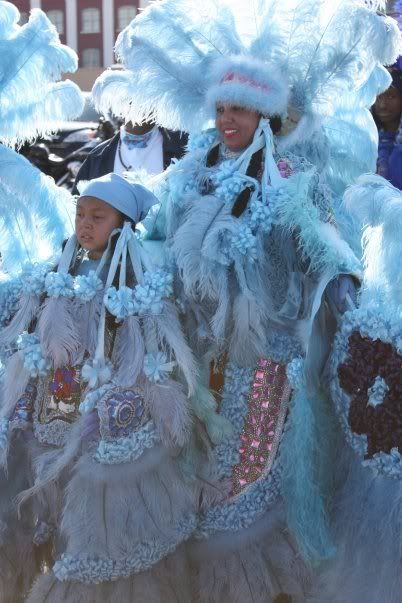 Indian tribes usually have a "Queen." It's not surprising, since the women pitch in with all that sewing and often want to dress up.
Another important character in the tribe is The Wild Man. The Wild Man wears a horned hat and, well, acts, wild. His job during the march is to clear the crowd in advance of the Indians and their Big Chief. The horned hat helps push people back in areas where crowds form.
The Indians are a wonderful part of the overall culture of New Orleans and if possible, should not be missed when you are here in town visiting.