Galactic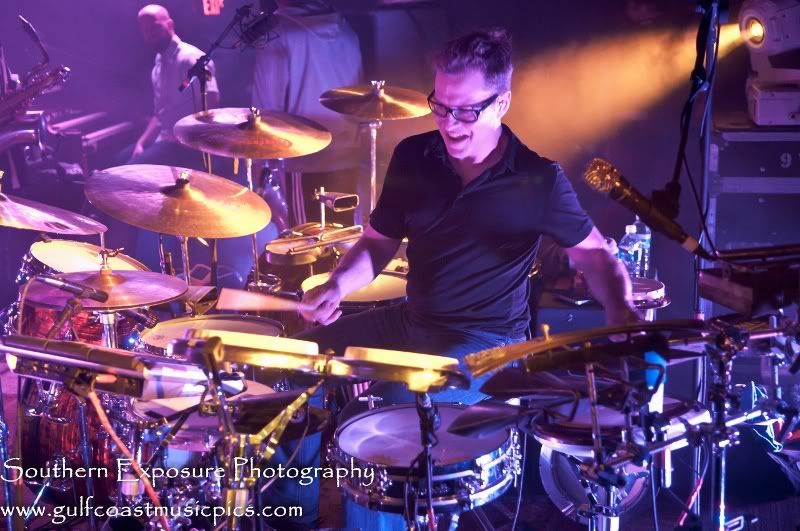 (photo courtesy Southern Exposure Photography)

Galactic began in 1994, when Chris Raines and Robert Mercurio came down from Washington DC, to attend Tulane. The pair made connections in the local music scene and put together a band that now Raines (guitar), Mercurio (bass), Stanton Moore (pictured, drums), Rich Vogel (keyboards), and Ben Ellman (saxophone/harmonica). The band, who have been playing together regularly since 1996, began with a strong New Orleans fun sound and style; they've evolved in recent years to a more eclectic style, incorporating hip-hop, jazz, and other sounds. Their current CD, Carnivale Electrico, is not your average Mardi Gras album, but rather a mix of world styles, fused with the band's New Orleans roots. Galactic brings it to the Acura Stage at 1:25pm on Sunday, May 6th.
Trombone Shorty and Orleans Avenue
(photo courtesy Southern Exposure Photography) 
Troy Andrews began playing the trombone when his six; that's how he got the nickname "Trombone Shorty." A graduate of NOCCA, Shorty grew up in Treme'. His career has skyrocketed, particularly since the storm. In 2006, he appeared on NBC's Studio 60 on the Sunset Strip, and plays himself in a recurring role on HBO's Treme. Andrews toured with Lenny Kravitz, and he's applied the experience of working with a tight, professional group to his own band. Orleans Avenue consists of Andrews up front (trombone, trumpet, vocals), Mike Ballard on bass, Dan Oestreicher on baritone sax, Tim McFatter on tenor sax, Pete Murano on guitar, Joey Peebles on drums, and Dwayne "Big D" Williams on percussion. They'll bring tunes from their critically-acclaimed CDs, Backatown and For True to the Acura Stage, 12:45pm, Sunday, April 29th.